We wanted to get our boys a basketball hoop for the driveway and so began searching for the "best portable basketball hoop" – I found a variety of recommendations. In this article I'll share some of the resources we used to find the right portable hoop for our family. Hopefully these tips can help you too.
---
7 Best Portable Basketball Hoops – Site #1
VeryWellFit.com seems to give good advice about a variety of fitness and sports products. Here's their list of the best portable basketball hoops.
About VFW's Top Choice Spalding The Beast
According to VWF, Spalding's Beast system has a 60" glass backboard with a 50+ gallon base to keep your portable hoop in place. This hoop adjusts from 7.5 feet to 10 feet with a simple screw jack adjustment, and the four strut pole/base mount keeps the entire system more secure than other portable hoops. The multi-wheel castors and engaging handle make it easy to move, but you can fill the base with plenty of water or sand to secure it while you're playing.
---
5 Best Portable Basketball Hoops – Site #2
I also found the site OutsidePursuits.com to be helpful. The hoops they recommend tend to be on the more budget friendly side of things so you won't find the top-of-the-line options in their list but you will find good options for less money.
You'll note that they have identified similar hoops in their list of the 5 best portable basketball hoops. I like to see the same hoop picked on multiple sites because it validates the hoop as being a good choice in my mind.
About the Spalding Pro Slam 54″ Basketball Hoop
OP said "The Spalding Pro Slam Portable NBA 54″ Angled Pole Backboard Basketball System is our editors pick, and rightfully so. it offers a highly durable 54″ polycarbonate backboard designed to stand up to years of everyday wear and tear and provides excellent weather resistance."
Spalding Pro Slam Portable NBA 54″ Angled Pole Backboard Basketball System at a Glance
Backboard: Spalding NBA 54″ Polycarbonate Backboard *Constructed of a polycarbonate backboard material
Height: Hoop height is adjustable from 7.5-feet to 10-feet in 6-inch increments
Base: 34-gallon base
Pole: Angled, strong steel pole design
Hoop/Net: Comes with break-away rim system and net
---
Best Portable Basketball Hoops – Site #3
The site called SimplyTheBestof.com had numerous similar hoops on their list which is as follows…
---
Best Portable Basketball Hoops – Site #4
I think the site TheHoopsGeek.com is really good for this particular topic. They've got 6 hoops identified as the best portable hoops – again you're going to see some similar names, but I also like how they identified the size of the BASE – that helps to keep in mind because the bigger the base the more stable the hoop.
The Best Portable Basketball Hoops:
---
Top 10 Portable Basketball Hoops Ranking
Finally the site SportsGearLab.com is another site I used for my research. They have 10 best hoops listed – are you starting to see a trend with the same names coming up over and over again? I'd recommend you strongly consider one of the repeat names for the hoop you choose.
SportsGearLab.com says "The price may be scary, but the quality shows: this is one of the best portable hoops you can buy. The 50" tempered glass backboard is as close to pro as most backyards will ever see, and as big as most home players need. The polycarbonate backboard is tough and offers excellent rebound for more exciting play. Whether you're shooting hoops on your own or battling it out in a 3 on 3 backyard game, you'll find your skills challenged with every throw
The super-sturdy 25-gallon base features a four-strut z-frame pole mount for extra rigidity, but despite its solidity during play, its unusual multi-wheel base design gets this system top marks for portability before and after a game. The easy-to-use screw jack height adjustment system gives you room to grow, starting at a challenging 7.5' and moving up to regulation 10' for when you feel like a pro.
We think Silverback's NXT is the best portable basketball hoop out there – if you're serious about basketball, there's so much to like."
---
How to Shop for a Portable Basketball Hoop
It's important to keep some things in mind when you are shopping for a portable basketball hoop. Remember these tips…
TheHoopsGeek.com also had some EXCELLENT tips to share about what to look for in a quality hoop…
Backboard
Whether you want to practice the iconic Tim Duncan bank shot or work on your lay-ups, the backboard of your hoop better be of good quality! You want to look for these three factors:
1. Size of the backboard:
The regulation basketball backboard used in the NBA and NCAA is 72 inches wide and 42 inches high, but you will rarely see a backboard of these dimensions in a driveway. If money's no object and you are building a professional basketball court in your backyard, then go for a 72″ backboard (and an in-ground basketball hoop). Otherwise, there are more sensible options on the market.
Backboards usually start at 44 inches wide, which is very small, makes layups hard and bank shots almost impossible. Backboards offering better playability start at 54″ inches. These give a much more professional feel and allow for easy layups and angled floaters. More expensive, high-quality hoops often come with 60″ backboards while regulation 72″ backboards are almost entirely reserved for the most luxurious and professional basketball goals on the market.
2. The material of the backboard:
Backboards are usually made of either one of these three materials:
Polyethylene (or Polycarbonate) is a fancy name for plastic and is most often used for the cheapest basketball hoops. It has one significant advantage: it is almost indestructible and, therefore, a great option if you are looking for a basic hoop that will last you for years. If you want a high-quality basket, however, plastic has two problems. The rebound effect is pretty bad, which means the ball basically stops dead once it hits the backboard. Also, the look of plastic boards just screams "kids hoops".Acrylic backboards are a definite step up from cheap polyethylene backboards. Transparency offers a much more professional look. Unfortunately, acrylic is a very soft material and will pick up scratches over time, which will slowly spoil the great look.
Acrylic is very popular with hoops in the moderate price range because it weighs considerably less than tempered glass. This reduction of weight means that the support structure doesn't have to be as sturdy in order to support the weight of the backboard. Unfortunately, lighter basketball hoops are more susceptible to wind, and the rebound response of the backboard is only average.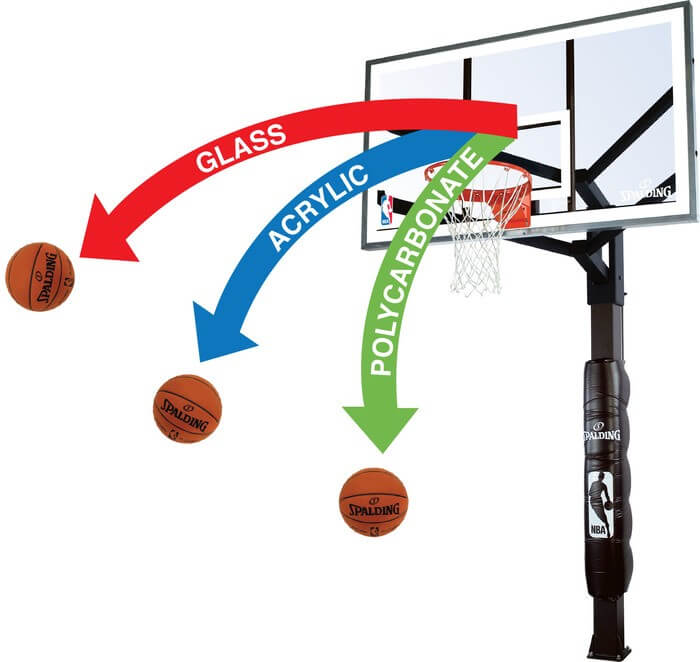 Tempered glass is the material used in professional basketball hoops in the NBA, NCAA and all over the world. It is by far the heaviest material used in backboards and requires a solid base and support pole. In return, you are rewarded with the best playing experience by far, with a true rebound response which makes layups and bank shots so much more satisfying.
On top of these advantages, tempered glass doesn't scratch easily and keeps its clean look forever, unlike other materials which tend to yellow out after being exposed to the sun for too long.
3. Offset of the backboard:
The offset of the backboard describes the distance between the backboard and the support pole. If the offset is too small, it is easy to crash into the basketball post after a layup or dunk attempt.
Professional basketball goals feature an overhang of at least 4 feet, but portable ones usually have far less, which is no problem if you just practice your shooting. But if you want to play real games, make sure that the overhang is deep enough, otherwise, padding the goal post is a good idea.
Rim
The rim diameter of 18 inches is the same for every hoop on the market. What is different, however, is the way the rim is attached to the backboard:The standard rim is simply screwed into the lower backboard. This construction gives the rim a lot of stability, but it also results in a lot of long rebounds and shots that bounce in and out. You also don't want to dunk on a rim like that, where all the force is transmitted (unchecked) onto the backboard. On rims like these, it is easy to injure your hands or tear down a part of the backboard.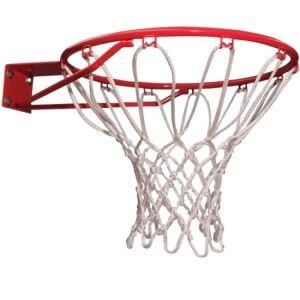 Breakaway basketball rims with compression springs dampen the bounce of your shots, resulting in the "soft touch" every shooter loves. If you plan to dunk on your basketball hoop, a breakaway rim is mandatory. These rims come in two different variations: cheaper versions with exposed compression springs or more expensive and more durable rims with covered springs offering better rust protection.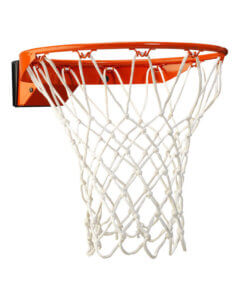 Support Pole
A stable and robust support pole is very important for the stability of a basketball hoop. Most portable basketball goals these days have the ability to adjust the height. Adjustable basketball hoops are great for kids who want to learn the game (or adults who want to pretend they can dunk), but it makes the construction of stable support poles difficult. Cheap and moderately-priced hoops often use three-piece pole constructions. If you want something less shaky, look for two-piece support poles – usually reserved for more expensive basketball hoops.
The height adjustment systems also differ widely in quality and ease of use. Cheap basketball goals often use a telescope pole fixed by a knob in 6-inch increments. More expensive hoops like the Spalding NBA system offer a screw jack adjustment system, which is much easier to use and allows you to choose any height between 7.5′ and 10′.
Base
The base is one of the most important parts of any portable basketball hoop. Not only does it provide the hoop with the necessary stability but it's also a crucial part of its portability.
The base usually includes a container that is filled with water or sand. The bigger the capacity of the base, the more stability it provides.
Pro Tip: Add Base Gel to the water of the base to create a firm and stable gel that keeps your base from cracking in the winter, prevents leakage and adds extra stability. Beginner hoops often come with a capacity of around 27 gallons. But the plastic backboards of these basketball goals are rather light, so the base doesn't need to be very heavy. More advanced hoops (with bigger backboards made from acrylic) usually come with heavier bases with a volume of around 35 gallons. The base of the most expensive (and much heavier) hoops can easily exceed 50 gallons, which has the negative side effect that it hurts the portability to some degree.
If you need to move the hoop after every basketball session and portability is very important to you, you should make sure that the base has wheels. Fortunately, this is the case for almost all portable basketball hoop these days.
---
FAQ's for Portable Basketball Hoops
Finally, I found the site GearHungry.com to have a helpful FAQ for portable hoops. Maybe it will help you too.
Q: What is a portable basketball hoop?
A: A portable basketball hoop is a hoop that you can move, such as the name. But why do they exist when you have plenty of existing products that allow you to shoot hoops on a lazy Sunday afternoon? We will let you in on a not-so-exclusive secret; some homes won't allow you to fix a basketball hoop to the house, nor will they permit in-ground hoops to stand there permanently.
It is from such policies that portable hoops were born. The no-commitment design makes them a highly attractive product, and they are arguably much more appealing than more traditional models. The portability makes it easy to transport from the driveway to the backyard or even store them in the garage throughout winter.
The construct is with the same durability and quality that traditional hoops are, which provides peace of mind and ensures longevity. They are adjustable, stable, and all-around versatile products suitable for just about anybody.
Q: Should I put water or sand in my portable basketball hoop?
A: As basketball hoops are top-heavy models, you need something to ground them. Some might expect to fill the base with concrete. However, this can come with a range of issues. For one, the concrete will harden, causing it to expand, which could split the base. Concrete is also heavy, which will eliminate the benefits of portability. Instead, you need to look at sand or water.
Most portable hoops are compatible with both sand and water, so it's really up to you what you use. Water is more accessible, and it is also easy to remove if needed. Conversely, sand can be a little tricky to source, and you might find it difficult to remove from the base.
One benefit sand has, though, is that it will stay in the base longer. If there is a leak in the bottom, water will drain no matter what. However, as sand can pack together, you may lose a few grains, but not everything.

Q: Are portable basketball hoops safe?
A: Portable basketball hoops are safe, but only if you use them correctly. The first best way to ensure complete safety is to fill the base to the maximum capacity, outlined in the instruction manual or product page. Filling it will provide enough weight to balance the structure properly, preventing the risk of it toppling over, even in high winds. However, for additional confidence, secure it in place with a rope if possible.
As much as dunking and hanging on the hoop are tempting, you should avoid it. The extra weight on your side will interfere with the equilibrium; the hoop will fall forward, with you dragging it down, potentially causing injury, or you could end up stuck beneath the structure entirely.
You should take care when assembling the hoop, especially if you are a child. Portable basketball hoops are relatively easy to assemble, some parts can be heavy, and it might require two people to provide adequate support.
Q: Where should I put my portable basketball hoop?
A: The beauty of a portable basketball hoop is that you can put it wherever there is space, working as both indoor and outdoor portable basketball hoops. As long as there is enough room to wheel it into position, you can shoot hoops all day long.
Most people will keep the hoop in the driveway or front yard, as it will offer the most space and give you and your buddies a decent area to move around without damaging flowerbeds, plants, or garden furniture. However, you can also take it to the park or use it at school for basketball tournaments, especially with teams using reduced numbers.
When you aren't using your hoop, you can keep it on the driveway, but it's worth emptying the water if you live in cold climates to prevent it from freezing. If you do this, lie the hoop flat, so it doesn't blow over. If you consider the hoop unsightly when you're not using it, disassemble it or adjust it to the lowest height setting and store it in the garage or around the back of the house if there is enough space.
---